The Demon Ororon
From Wikipedia, the free encyclopedia
Jump to: navigation, search
The Demon Ororon
悪魔のオロロン
(Akuma no Ororon)
Demographic Shōjo
Genre Romance, Supernatural
Manga
Author Hakase Mizuki
Publisher Shinshokan
[show]Other publishers:
Tokyopop
Mangismo Danmark
Mangismo Sverige
Serialized in Wings
Original run April 1998 – January 2001
Volumes 4
The Demon Ororon (悪魔のオロロン, Akuma no Ororon?) is a romantic tragedy manga series written by Hakase Mizuki. The series is published in English by Tokyopop.
This series follows the romance between Chiaki, the young orphan daughter of Archangel Michael and a human woman, and Ororon, King of Hell. Chiaki takes in the injured Ororon and cares for him, and as payment he offers to grant any wish she makes. Chiaki, who is lonely, says, "I want you to stay with me. I don't want anything else. Be my friend. Stay with me...forever." An innocent promise made in gratitude opens the door for a world of hurt, as sadistic angels, bounty hunters, demon princes, and every denizen of the underworld appear determined to destroy the King. But for love of his pacifist Chiaki, Ororon must also battle against his own bloodlust and murderous impulses. To save Ororon's life Chiaki releases unexpectedly devastating powers of her own and must come to grips with her own deadly nature. The tragic nature of being a Demon seems underscored by the characters, none of whom seem happy. They do their jobs, they suffer, they die; Ororon and Othello especially have lived/are living more or less meaningless lives.
Main characters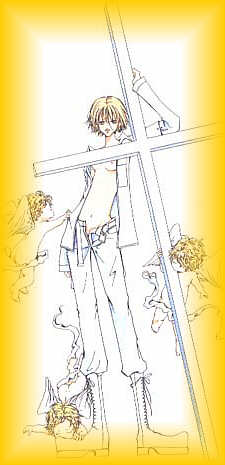 Chiaki
Saionji is the heroine, a shy and pacifistic girl who is the daughter of the Archangel Michael and a human woman. Her parents disappeared when she was a baby, and she was raised by her grandfather, who has recently died. Her mixed heritage gives her incredible powers and makes her a target for both angels and demons. When she unlocks her powers she unleashes a devastating explosion that levels the city.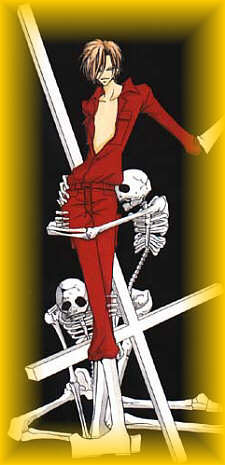 Ororon
Gem Farrell is the King of Hell, but he has abandoned his post and fled to Earth. The youngest son of the previous king, he has no wish to rule Hell and prefers to remain with Chiaki. For her sake he tries to temper his bloodthirsty nature. While fighting his brother Oscar, he dies from a wound previously inflicted by one of the bounty hunters that came with Mitsune.
Secondary Characters

Lika
is Chiaki's best (and only) friend who moves in with her. Shiro asks her if she is in love with Othello, she neither admits it or denies it. She attacks Oscar during the battle towards the end of the story ang gets wounded.

Shiro
and Kuro are two demon-cat brothers who are killed by Ororon after they attack Chiaki. Ororon restores them to life and they are "adopted" by Chiaki. Shiro gets blown up by Oscar.
Othello
is Ororon's half-brother, General of the Army of Hell, and one of the most powerful creatures in the multi-verse (at one point he is referred to as one of the top three who can "kill anything and anyone"). He makes a vow to protect Ororon after Ororon tries to convince Oz not to have Othello's wife (Futaba) executed. Of all Ororon's siblings, he is the only one who cares for Ororon. He is infatuated with the bounty-hunter Mitsume. He wears his laughter to cover the pain of having to execute his very own wife himself.

Mitsume
is a bounty hunter. Because he was born with a third eye, an "evil eye", he was mutilated (losing an arm and two fingers) and driven from his village. Since then, he's been wandering around as a professional Bounty Hunter. Othello wants him as a plaything, but he remains defiant. Othello repeatedly beats and goads him in an attempt to give him a purpose for living. From then on, Mitsume makes his life's goal to train so that he can kill Othello.
Oscar
is Ororon and Othello's half-brother, and Ororon's chief rival for the throne of Hell. He has a bittersweet disdain/hatred for the king and is very merciless in his actions. He tries to take over the world, starting with hell and confronts Ororon. He wound Miss Lucy and Lika, kills Shuro and then is killed by Ororon.
Yotsuba
is Othello's son by his late and much older wife, Futaba (she was executed). He is commander of the 1st battalion of Hell's army.
Miss Lucy is Ororon's maid. She is shown to have abnormal strength. It is unknown whether she is human or demon or some other manner of creature.
Sheila
is Ororon's mother. She went mad after Oz killed her lover out of jealousy. She hates Ororon because he reminds her of his father, and also tries to kill him. He visits her regardless, because he loves her.
Oz
is Ororon's father and King of Hell. He chose Ororon as the heir because he loved Sheila, though she always despised him.